Did Steve Spurrier do his best a coach? Why did he leave South California?
Who is Steve Spurrier?
Stephen Orr "Steve" Spurrier (born April 20, 1945) is a college football coach and former professional coach, and former college and professional player who most recently was the head coach of the Orlando Apollos of the Alliance of American Football league (AAF).
Spurrier is a native of Florida, graduated from high school in Tennessee, and is an alumnus of the University of Florida, where he played college football. He was a two-time All-American quarterback, and was inducted into the College Football Hall of Fame as a player. Spurrier played professional football for the San Francisco 49ers and the Tampa Bay Buccaneers of the National Football League (NFL) for ten seasons in the 1960s and 1970s. He is best known for winning the Heisman Trophy in 1966, and for coaching the University of Florida Gators football team to six Southeastern Conference (SEC) championships and a consensus national championship in 1996. from 2005-2015 Steve was head coach of the University of South Carolina Gamecocks football team.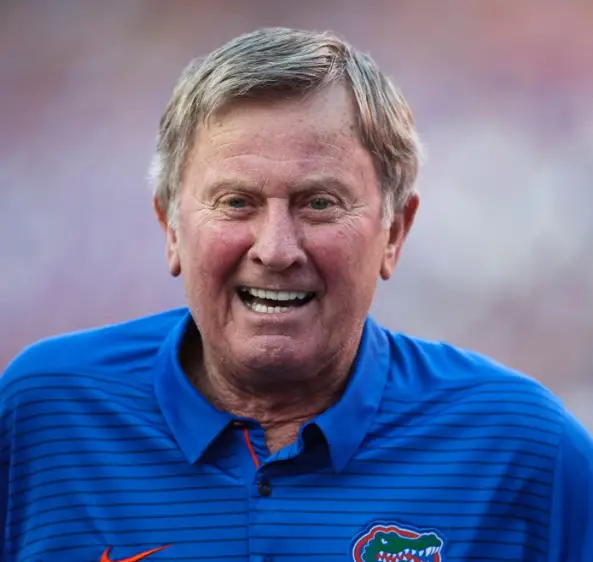 Why did Steve Spurrier leave South California?
Steve Spurrier said on tuesday, that he made the decision to resign as South Carolina's head coach because the team was heading in the wrong direction.
"We've slipped. It's my fault. I'm the head coach," he told a news conference.
Spurrier als said he started really thinking about resigning Sunday morning, spoke to South Carolina athletics director Ray Tanner that afternoon and told his team on Monday night that he was stepping down, effective immediately.
South Carolina President Harris Pastides said he asked SteveSpurrier to stay through the rest of the season, but Spurrier refused.
Spurrier said it's "time for me to get out of the way and let someone else have a go at it. … I was the best coach for this job 11 years ago, but I'm not today."
Spurrier has yet to record a losing season in his 25 years as a coach in a career that has also taken in spells at Duke and Florida. He also has the most wins for any coach in the history of Florida and South Carolina, and led the Gators to six SEC titles and a national championship. However, in his 11th season with South Carolina the team are 2-4 and 0-4 in the Southeastern conference.
Spurrier may have come to the decision that at 70 the pressure and hard work is no longer worth it. Whatever the reason, his announcement has been greeted with sadness by former players and fellow coaches. Jadeveon Clowney, the No1 overall pick in the 2014 NFL draft, tweeted: "I'm proud to have played for one of college football's greatest coaches."
On Tuesday however, Spurrier did not rule out a return to football. "Don't say I've retired completely," he said. "Who knows what will come in the future?"
Last Updated on December 13, 2022 by Loveth