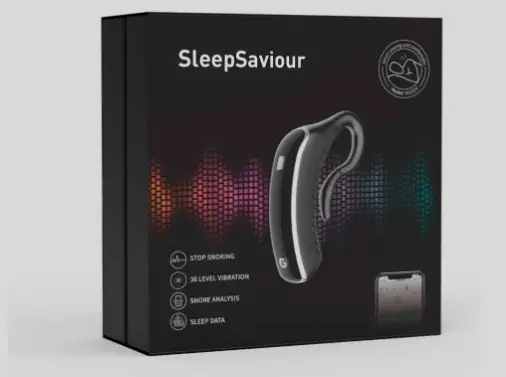 Looking for a product that can help relief your snoring habit? Heard of Sleep Savior earbud device for that? If yes, this is for you. This Sleep Savior review shares all about the product whether to shop or not.
The content assures you of getting earnest review on this product. Kindly read to the end and share any complaint in the comment section.
About Sleep Savior
The Sleep Savior is an automatically detected device created for detecting snoring during sleep. The device comes with in-built sensors for doing that.
When the snoring sound is recognized as snoring by the device, the device will vibrate and the vibration level will be adaptive. If the intervention of the current vibration level is unsuccessful, the vibration will increase step by step, reaching the highest level of snoring intensity set by the user.
Further, the product uses an electrical muscle stimulation (EMS) to stimulate the vagus nerve in the neck which re-opens the collapsed airways. While it claims to do all that, it promises to be painless.
Inasmuch as the product appears helpful and trustworthy, this review is for you to know if the product is worth buying or not. More so, this review will expose all that is needed to know about this product.
How To Use The Device
Sleep Savior is easy to use and does not call for any complicated setup. Simply unbox the device when ready to use. After turn on and fix to the preferred ear. To track your sleeping quality over time, you can download  Sleeplus app on the App Store & Google Play.
Where To Buy Sleep Savior?
The product can be shopped directly through their official site thesleepsaviours.com. It is also available on other platform like Amazon. What's more, it comes with some discounts and 60 day money guarantee.
Benefits of the Sleep Savior
It can improve your sleep quality
Portable size
Easy to wear when sleeping
Suitable for mouth breathers
Wireless and rechargeable
Suitable for both genders
Drawbacks
It brings pain to the ear
Poor battery life
Does Sleep Savior Really Work?
Sleep Savior is a product promising to reduce snoring and improving sleep quality for those with such problem. In all its presentations, the product has shared some positive customer satisfaction on its website in order to appear trustworthy. However, the device is rated 2.6 out of 5 on external review site. This shows the effectiveness of this product is questionable.
Product doesn't work as advertised and the one year return is difficult to achieve – – not recommended
This product is much bigger than it appears. I wore it three nights it did help my snoring however had to remove it the third night because my ear hurt. At least I could return it but had to send it to china for a cost of $27.00 not happy.
Final Thoughts:
The Sleep Savior is manufactured to detect snoring during sleep using built-in sensors. It is portable and can be easily made use of. Considering the product, it can be used by users. However, we would advise buyers not to place high expectation on this product.
Have you purchased this product before? Does it go well? Please share your experience in the comment section below. Thank you!
Heard of Bliss-skin-tag, Pocoskin-Green-Tea-Mask , Hurricane Freeze? Read reviews.
Last Updated on April 11, 2023 by Danny