Are you a body builder and want to buy the Vital Flex Core? Does this Abs stimulator work? Do you want to find out if Vital Flex Core is worth your money? Read this honest review to find out all you need to know about the Vital Flex Core, how it works, its pros and cons.
What is Vital Flex Core?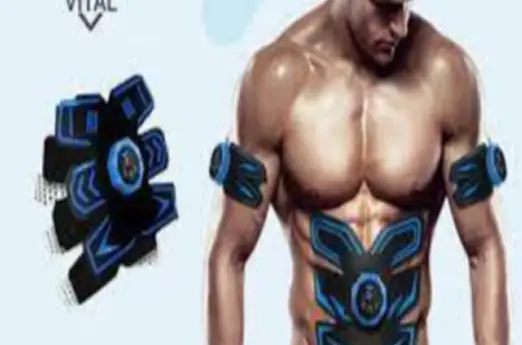 Vital Flex Core is an EMS Stimulator that claims to strengthen abdominal muscles and promote a healthier, toned physique. 
According to the website, it  "By gently stimulating the skin with light, the general wellness, non-transdermal patches help you conquer your active life-style and pave a new way to vibrant health.
How Does The Vital Flex Core Work ?
The Vital Flex Core works by stimulating the skin with low levels of light, resulting in improved energy flow thereby paving a new way to vibrant health.  It is supposed to be used for  training for 20 minutes per time, 1-2 times a day for more than 6 weeks. 20 minutes of use is equal to an hour of sit-ups, an hour of swimming, 2000M of running, or 2 weeks of dieting. Please read the instructions before use, and then adjust to the required intensity level.
Features And Specifications Of The Vital Flex Core
It is also very easy to use.
It is  ultra-light.
It is ultra-thin.
It is wearable, and easy to carry.
It is made of medical-grade materials that are flexible, durable, and latex-free.
How To Use The Vital Flex Core
The Vital Flex Core is quite easy to use. All you have to do is follow these simple steps:
Place the Vital Flex Core on abdominal muscles and ensure the smaller gel pads are aligned with this region.
Press the power button on the Vital Flex Core device to start your workout session. The LED display would activate thus allowing you to select from the available modes and intensities. Choose the settings that align with your fitness goals and preferences.
Begin your work out.
Adjust if necessary.
My Experience Using Vital Flex Core. 
I came across the Vital Flex Core online and decided to give it a try. I ordered the Vital Flex Core from Amazon and it was delivered right on time. However I was highly disappointed  flimsy cheap plastic. I started using immediately. But honestly it is a waste of money. It doesn't do anything and I it is not worth my money.
Does Vital Flex Core Really work?
No, it doesn't work. There are also negative reviews on Amazon. Customers complaining bitterly about it.
A customer had this to say:
Useless piece of plastic..

Amy H
Well my friends don't waste your time or money on this product it's a joke. And read carefully. You can't return it!

Vasile
Cautions
Remove immediately if you feel discomfort or if skin irritation occurs. Do not reuse patch once removed from skin. For external use only. Do not ingest. Do not place on broken skin. Ask a health professional before using if you have a health condition or any questions or concerns about your health. Do not use if pregnant or nursing.
cons
Conclusion
From the foregoing it is safe to say that the Vital Flex Core works just as it claims. I have also reviewed other patches, pain relief and massagers, example is the Signal Relief Patch, Kneecap Tourmaline.
Do this If you have been Scammed!
Have you been Scammed? Here are some things to do if you've been scammed.
Contact your bank and and file complaints also request for a new debit card. If you used Paypal as a method of payment you should document the transactions for future purposes, you can do this by keeping a screenshot.
In as much as online shopping has made life easier and simpler, one ought to be careful when ordering things online to avoid the risk of a hacked credit card and overcharged fees. Before ordering things from an online store check out the following.
The website age, A return address, Customer Reviews and its social media presence.