The Veganic Hair oil is currently trending and so many people wants to know if it really does work as advertised. Are you suffering from hair loss and want to buy the viral Veganic Hair Oil? Do you want to know if it works or if it is a scam? Read my honest review about the Veganic Hair Oil.
What is Veganic Hair Oil?
Veganic Hair Oil is an oil that claims to work for hair growth. It claims to be a plant powered growth blend that has been formulated with natural sourced oils that makes hair grow  thicker, denser, fuller.
Inasmuch as the Veganic Hair Oil looks legit, the main concern of this review is to ascertain if the hair oil lives up to its name, and this review would expose all that is needed to know about it, pros, cons, etc.
Ingredients In Veganic Hair Oil
The Ingredients include;
Carum Petroselinum (Parsley) Seed Oil, Hydrogenated Castor Oil, Linum Usitatissimum (Linseed) Seed Oil, Coffea Arabica (Coffee) Seed Oil, Argania Spinosa (Argan) Kernel Oil, Adansonia Digitata Seed Oil, Hydrogenated Sweet Almond Oil, Lavandula Angustifolia (Lavender) Oil, Zingiber Officinale (Ginger) Root Extract, Olea Europaea (Olive) Fruit Oil, Panax Ginseng Extract, Polygonum Multiflorum Extract, Theobroma Cacao (Cocoa) Seed Extract, Persea Gratissima (Avocado) Oil, Cocos Nucifera (Coconut) Oil, Rosmarinus Officinalis (Rosemary) Leaf Oil
What I Noticed After Using Veganic Hair Oil
For a long time I have always had thinning and falling hair each time I wash and comb my hair. It has been a source of worry for me and I have also tried other shampoos like the Mane Shampoo and hair growth serum which did little or nothing to solve my problem. I was scrolling on Tiktok when I saw someone talking about an oil and how it worked wonders for her hair, I clicked on it and she was talking about the Veganic Hair Oil. I decided to give the Veganic Hair Oil a try to see if it would at least work better for me. When it arrived, I was surprised to see that it was not Veganic oil but Carvenchy Hair oil. I felt I was scammed. I quickly went to Tiktok and I was not the only person, other women also received the Carvenchy Oil. I also noticed that the people talking about it were holding the bottle label facing them so I could not see what was written on it. I also saw a comment saying they were rebranding. Now I have used it for over six weeks and sincerely I have not noticed anything different. I have not noticed any change, I still get the same amount of hair loss every wash day. I am beginning to loose patience seeing as the manufacturers advertised that it works in 90 days, This is my 4th week and there's no improvement. I do not think it works as claimed. The only thing I love about the Veganic Hair Oil is how soft it makes my hair feel after applying it.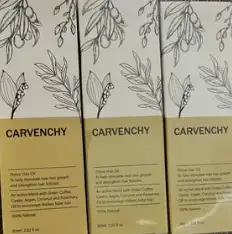 Does Veganic Hair Oil Really work?
It did not work for me and I doubt it works as advertised seeing as I have used it for over 4 weeks. There are also reviews from other customers as at the time of writing my review. Most of them said it did not work for them too.You can check Tiktok for real life reviews too. There are however tons of positive reviews on the tryveganic.com website, but these are internally generated reviews and can very well be manipulated. The website selling it, tryveganic.com is also a suspicious website as it was created recently in April 2023 and expires April 2024. this shows that it is an easily disposable website.
Some Claimed Features And Benefits Of Veganic Hair Oil
The Hair Oil has claimed that it can do the following:
Support Hair growth.
Thicker-looking hair in 90 days
  Strengthen hair.
increases hair volume
Boost shine in dull hair
100% vegan & cruelty free
Safe for Color-treated hair
How To Use The Veganic Hair Oil
Fill the dropper to full.
Apply directly on your scalp also focusing on the affected areas.
Evenly disperse the oil and massage into scalp with your fingertips or scalp massager.
 Leave in overnight or for a minimum of two hours
For best results, apply on on dry or towel-dried hair and repeat procedure for three times a week. Always make sure you massage scalp after applying the oil.
Pros Of Veganic Hair Oil
It made my hair feel soft and easy to comb
It uses natural ingredients
It makes hair clean and soft.
It is safe for color treated hair
Cons
It did not work as claimed for me, I still experienced hair loss while using it.
Some complained it made their scalp hurt
Some Side Effects
Some customers on Titktok Complained it made her scalp hurt
Conclusion
From every indications, it is clear that the claims by Veganic Hair Oil that it aids rapid hair growth is not entirely true as it has failed to work for me for the past 6 weeks of continuous usage. I have not noticed any difference whatsoever since I started using it. If you are suffering from hair loss, it is advised you see a dermatologist before using over the counter products on your scalp.
Click here to read on other Hair growth products we have reviewed.
Do this If you have been Scammed!
Have you been Scammed? Here are some things to do if you've been scammed.
Contact your bank and and file complaints also request for a new debit card. If you used Paypal as a method of payment you should document the transactions for future purposes, you can do this by keeping a screenshot.
In as much as online shopping has made life easier and simpler, one ought to be careful when ordering things online to avoid the risk of a hacked credit card and overcharged fees. Before ordering things from an online store check out the following.
The website age, A return address, Customer Reviews and its social media presence.