Did you receive a Philo TV Scam Email Subscription telling you that your subscription with Philo Tv is active ? Do you want to find out if its a scam or legit mail? You are at the right place. Read this review to find out more about Philo TV Scam Email Subscription
What is Philo TV Scam Email Subscription
  ThePhilo TV Scam Email Subscription is a scam mail that scammers are sending to random people telling them that they are now subscribed to the Philo Tv. The aim of this mail however, is to lure the potential victims to call the number in the mail and then try to get them to grant access to their computers, or disclose their account credentials, personal and financial information.
When you call the number in the mail they then send you a link to a Zoho remote support session. However this remote sessions are a typical way through which scammers trick you into gaining access to your computer. Once in, they may then try to convince you that there is malware on your laptop by showing you completely normal system processes , or even install malware directly under the guise of a system utility or antimalware program. The follow-up they do is to then get you to agree to pay for the additional software services to remove the non-existent malware.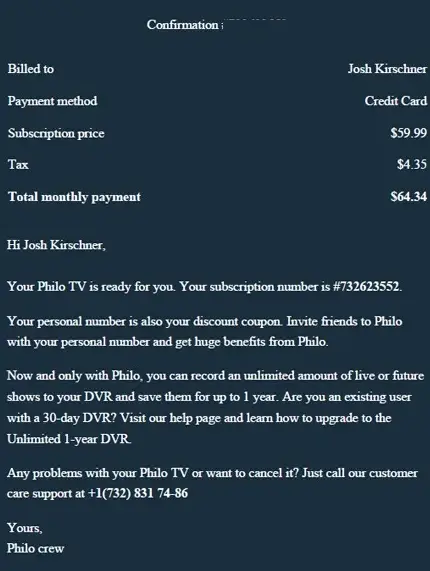 The email scam for Philo TV Scam Email Subscription was going around in November 2022, and is being sent by scammers.
How to prevent being Scammed?
When you get such calls or email. Ensure it is coming from a company mail and not @gmail, @yahoo, @aol and the likes. If it is a number, pen the number down and ask the company they are representing , its far better to even drop the call without engaging them. Don't click any links on the email and don't reply as well. Check for reviews online about the company to ascertain its legitimacy. If it involves PayPal, then checkout how to report here. And always ensure you don't disclose personal details like credit card details, social security details and personal ids. You can also download spam call blocking apps on your phone.
Conclusion
From the foregoing it is clear that the Philo TV Scam Email Subscription is a phishing scam. To be on the safer side, do not follow the scam page or click on any link as these are scammers who are looking for ways to steal your personal and financial information.
Click here to read on other scams we have talked about.