The former minister for sports in Brazil is down with colon cancer .Read more about health status.
A Brief History Of Pele
Pelé was born Edson Arantes do Nascimento on October 23, 1940 in Três Corações, Brazil, the first child of João Ramos and Dona Celeste. Named after Thomas Edison and nicknamed "Dico," Pelé moved with his family to the city of Bauru as a young boy.
Pelé grew up in poverty. Still, he developed a fundamental talent for soccer by kicking a rolled-up sock stuffed with rags around the streets of Bauru. The origin of the "Pelé" nickname is unclear, though he recalled despising it when his friends first referred to him that way.
As an adolescent, Pelé joined a youth squad coached by Waldemar de Brito, a former member of the Brazilian national soccer team. De Brito eventually convinced Pelé's family to let the budding phenom leave home and try out for the Santos professional soccer club when he was 15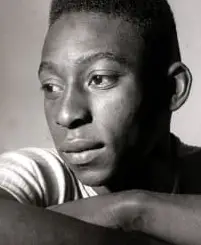 Soccer legend Pelé became a superstar with his performance in the 1958 World Cup. Pelé played professionally in Brazil for two decades, winning three World Cups along the way, before joining the New York Cosmos late in his career. Named FIFA co-Player of the Century in 1999, he is a global ambassador for and other humanitarian causes.
Retirement did little to diminish the public profile of Pelé, who remained a popular pitchman and active in many professional arenas.
In 1978, Pelé was awarded the International Peace Award for his work with UNICEF. He has also served as Brazil's Extraordinary Minister for Sport and a United Nations ambassador for ecology and the environment.
Pelé was named FIFA's "Co-Player of the Century" in 1999, along with Argentine Diego Maradona. To many, his accomplishments on the soccer field will never be equaled, and virtually all great athletes in the sport are measured against the Brazilian who once made the world stop to watch his transcendent play.
His Health Status:
Brazilian football legend Pele 'has been moved to palliative care' in hospital and is 'no longer responding to chemotherapy' in his fight against bowel cancer.
His former club Santos, Brazilian ex-player Rivaldo and the France international forward Kylian Mbappe were among those tweeting good wishes, joining fans around the world. 
England captain Harry Kane said: 'We send our best wishes to him and all his family from the whole England set-up. He's an inspiration, an incredible person.'
He was admitted into the Albert Einstein Hospital in Sao Paulo, Brazil on Tuesday suffering from 'general swelling' and 'heart failure'.
They said he is now in palliative care and won't be subjected to invasive tests or treatment. Palliative care is for patients with potentially life-threatening diseases or conditions and end-of-life care.
On Friday, the Albert Einstein Hospital released a statement saying Pele had been diagnosed with a 'respiratory infection' that was being treated with antibiotics.
The update said the former player is expected to remain in hospital for continued treatment in the coming days but said his condition was 'stable'.
In a post on Pele's Instagram account on Friday, he responded to a 'Get well soon' message that was projected onto a building in Qatar, where the World Cup is taking place.
He wrote: 'Friends, I am at the hospital making my monthly visit. It's always nice to receive positive messages like this. Thanks to Qatar for this tribute, and to everyone who sends me good vibes.'
Last Updated on December 4, 2022 by Loveth