What is your floor scrubbing experience like – time consuming or headache-inducing fumes? Do you want to end toilet scrubbing as well as prevent stain? Heard of Krazy Klean product promising you that? Let's take you on a discovery. This review is for you to know all about this product if it is worth buying or not.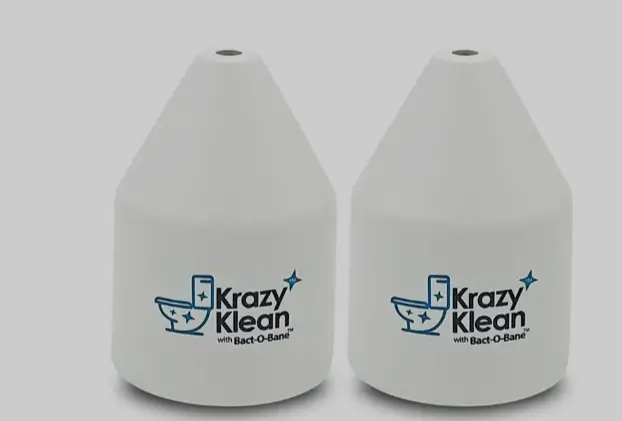 In this post, you are assured of getting my earnest review on this product. Kindly read to the end and share any complaint in the comment section.
About Krazy Klean
The Krazy Klean is one toilet cleaner openly promises you " never clean a toilet again". It is an automated toilet bowl cleaner that prevents stains from dirty minerals.
Following this, it claims to be kind to your toilet tank parts, your home, and our planet with its chemical-free technology design. More so, it claims to make you end the need to purchase a toilet brush, bleach, spray, and gloves ever again.
While the product appears helpful and trustworthy, this review is for you to know if the product is worth buying or not. More so, this review will expose all that is needed to know about this product.
Take a look at other details—
How Does Krazy Klean Work?
With the Hydro-Mineral Magnet Technology inside Krazy Klean, it deactivates the ability of minerals in water to stain or scale before they enter the tank and bowl keeping it stain and scale-free permanently.
How To Use
Fast and simple, Krazy Klean does not require too much from you. It simply asks you to drop the capsule in the tank.
Where To Buy Krazy Klean?
The product can be shopped directly through their official site Krazyklean.com. What's more, it comes with some discounts and 10 year money guarantee.
Some Claimed Benefits
It helps to prevent stain and odor causing ick
Prolong toilet tank life span
Chemical free
Zero environment waste
Freedom from toilet scrubbing
It can be used on different surfaces
Some Drawbacks
Poor result on some surfaces
Not available on other shopping websites
Suspicious return policy
Krazy Klean: Does It Work?
Krazy Klean is believed to end your long floor scrubbing and toilet stain with its Hydro-Mineral Magnet Technology. This may sound too good to be true, right? In all its presentations, the product seems to bring hope to many with its easy to use device for destroying stain or odor. On the website, it has shared some positive customers' remarks on the product. However, there are no external feedbacks online to ascertain the product claims. This shows the effectiveness of this product is questionable.
Should You Buy Krazy Klean? (My Experience)
Honestly, Krazy Klean product is a toilet bowl cleaning product that is different from the usual ones like chemical powder and chemical tablets. In my long for good toilet hygiene, I purchased this product to achieve that. On testing the product for days, I discovered the stains in my toilet bowl did not completely remove. And, I had to scrub the bowl to remove stains myself. In all, don't place high expectation on this product.
Have you purchased this product before? Does it go well with you? Please share your experience in the comment section below. Thank you!
Heard of Bliss-skin-tag, Pocoskin-Green-Tea-Mask , Hurricane Freeze? Read reviews.
Last Updated on May 6, 2023 by Danny