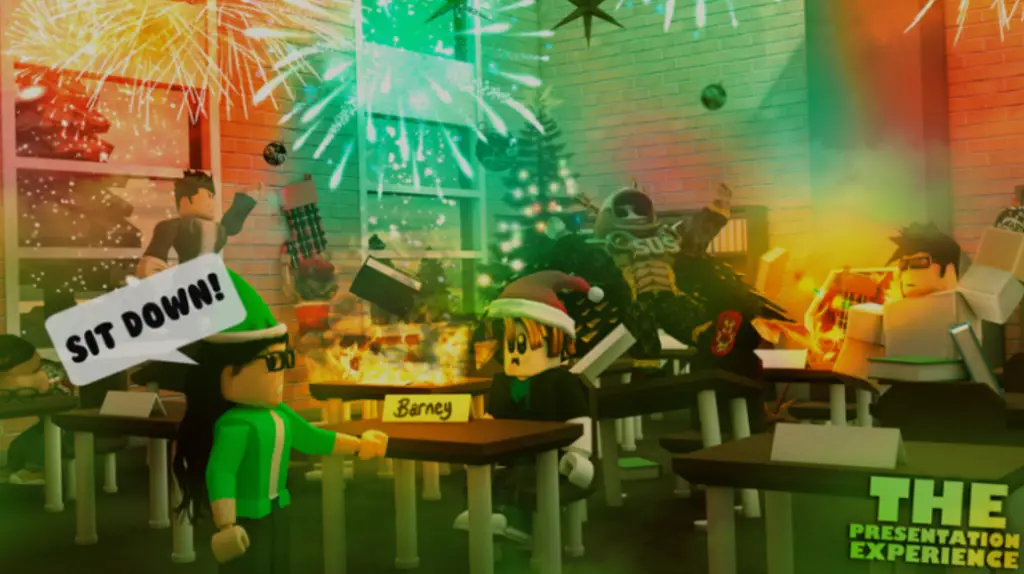 Ready to give a presentation on your choice subject with The Presentation Experience codes Roblox? Hop into a virtual classroom inside of The Presentation Experience and be whatever kind of student you want. So, how do you get points faster? Of course, with codes.
Having said that, the Presentation Experience on Roblox is a school-based role-playing game that allows each player to present on randomly selected topics that are either chosen by the AI teacher or other students and players present in the classroom. 
We have a handy of the Presentation Experience codes list that gives you some extra points. Please use these.
Active Presentation Experience codes
The good news for you is that we have revealed some active codes to redeem variety of items such as coins, gems, points, boosts, and other special points to achieving your goals. See yourself —
maxwellgood – 20 Gems
fartyreward – 100 Points
manfacepooper – 5x Points for 10 minutes
coffee – 60 points (NEW!)
CHRISTMASGIFT – 39 Gems
minimalgamespro – 25 Points
UwU – 20 Gems
Hallway – 10 Gems
pencil – 100 Points
5gems – 5 Gems
nootnoot – 50 Points
Megaboost – 5x Points for 60 seconds
Some Expired Codes
To save your time, we also revealed expired codes for you and other students to look at. See below —
100MVISITS
MILLIONMEMBERS!
egg
700kmembers
660kfavourites
minibonus
600kmembers
takenotes
jennahacker
chugjug
150KLIKES
500Kmembers
emotionaldamage
lava
Cringe
push-ups
Poop
toilet
itsaboutdriveitsaboutpower
intensesilence
azureoptix –
teachermadcuzbad
10points
Bookworm
NikkoCoder
180klikes
220kmembers
210kmembers
160kmembers
santaclaus
Christmas
75klikes
20mvisits
What are The Presentation Experience codes?
The Presentation Experience codes are courtesy of Minimal Games, the developer. They help you on your learning process with freebies.
How do I redeem The Presentation Experience codes?
These codes can help you redeem The Presentation Experience fast and simple. The following ways are —
Login to Roblox
Fire up The Presentation Experience
Click the Twitter bird icon
Enter a code into the text box
Click redeem
There you have it, all the latest The Presentation Experience codes. Thank you for reading to the end.
If you're looking for codes for other games, we have Sonic Speed Simulator codes post.
Frequently Asked Questions?
Why aren't my codes working?
Mind you, some Roblox codes exceptionally expire speedily and may even become inactive after 24 hours or less. If you attempt to enter a code and it says Code Expired, that code is no longer active and, regrettably, cannot be redeemed. There is nothing you can do to fix this issue, the code is simply unobtainable.
If you attempt to type in a code and it says Invalid Code, this means that you've likely mistyped the code or neglected to use the correct capitalization. If this happens, try to retype and re-enter the code once more, being sure to copy it exactly as it's written!