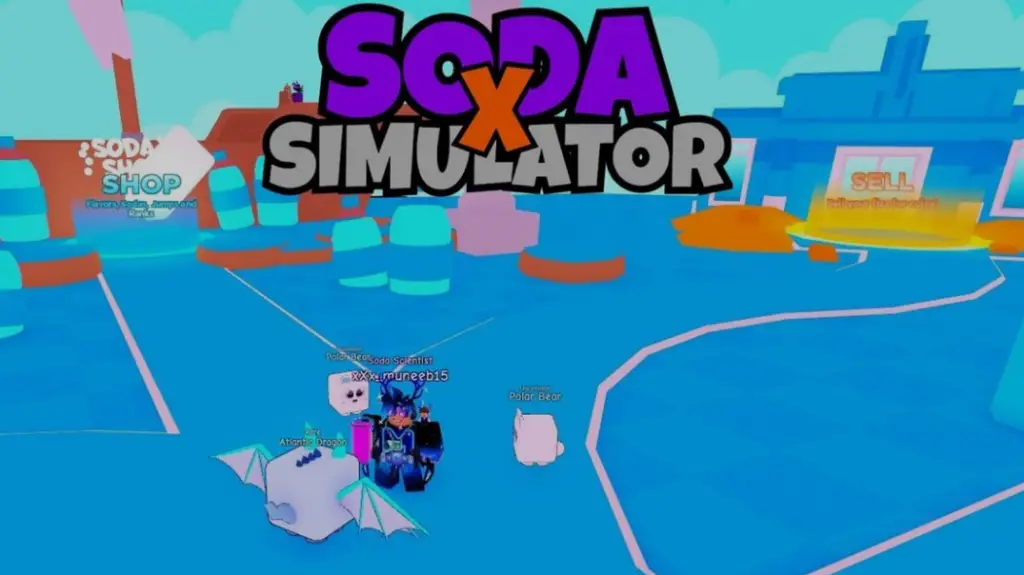 Get some extra boosts to make more bubbles and unlock more fizz! We have gathered all the current Roblox Soda Simulator X Codes into a handy list so you can get all the help you need. So, how do you get those boosts faster? Of course, with the codes.
The aims of this Roblox game are straightforward: collect cans of soda and use them to fill up a vending machine. Once the vending machine is filled, you can cash in your tickets and level up.
Below, we have a handy of Soda Simulator X Codes list that gives you some extra points. Please use these.
Active Soda Simulator X Codes
The good news for you is that we have revealed some active codes to redeem variety of items like unlock new points, improve your speed, and win prizes. See yourself —
100likesyay (500 gems)
TwitterRelease (5 minutes of Auto-Click)
500likestyty (Free Reward)
300likes (Auto-Click Boost)
BETA (Free Rewards)
UPDATE3 (Free Reward)
1klikesyay (1K Champion Pet)
2klikeswowty (2K Chaimpion Pet)
500kvisitceleb (Special Pet)
5klikestyy (5K Kitty Pet)
7klikestyy (7K Fox pet)
10klikeswow (10K Pet)
2mparty (Free Pet)
16klikesamazing (Free pet)
17klikeswow (Free pet)
19klikesamazing (Free pet)
25kfavswow (Free pet)
Some Expired Codes
To save your time and disappointment, there is no expired code at this moment. But be sure to claim the codes since we don't know when they may get expired.
Frequently Asked Questions
What are Soda Simulator X Codes?
Soda Simulator X Codes are courtesy of developer, Netex Games, by using codes that instantly grant you exclusive rewards – coins, pets and becoming the Soda champion.
How Do I Redeem My Soda Simulator X Codes?
These codes can help you redeem your Soda Simulator X fast and simple. Check the step by step guide below —
Launch the game
Click on the "Codes" button
Find it at the right side of the screen
A new window to redeem the code will open up now
Copy a code given in our list
Paste it into the chat text window
Click on the "Redeem" button to collect free gifts
How do I get more Soda Simulator X Codes?
We are constantly sending our loyal subjects out to find new Soda Simulator X Codes. But if you want to try to find some yourself, we suggest you start by joining the official Discord server to receive them, follow through on Twitter and browse through the official wiki.
Why aren't my codes working?
Mind you, some Roblox codes exceptionally expire speedily and may even become inactive after 24 hours or less. If you attempt to enter a code and it says Code Expired, that code is no longer active and, regrettably, cannot be redeemed. There is nothing you can do to fix this issue, the code is simply unobtainable.
If you attempt to type in a code and it says Invalid Code, this means that you've likely mistyped the code or neglected to use the correct capitalization. If this happens, try to retype and re-enter the code once more, being sure to copy it exactly as it's written!
There you have it, all the latest Soda Simulator X Codes. We'll keep a keen eye out for new promo codes and add them to this list when the developer makes them available. Thank you for reading to the end.
If you're looking for codes for other games, we have Build A Market Codes, Rocket league codes posts.