Are you experiencing joint pains? Are you looking for an effective joint pain relief pill? Have you come across Omega Xl and want to find out if it is authentic and worth your money? Read this review to find out more about Omega Xl.
What is Omega Xl?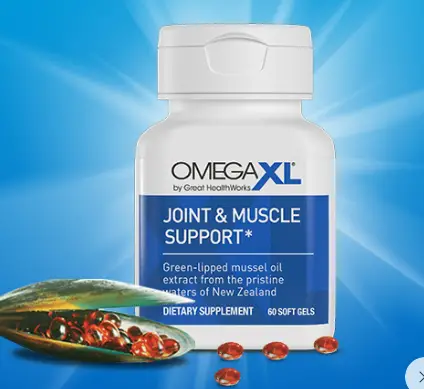 Omega Xl is a supplement that aids in the relief of joint pain. OmegaXl is a product of the Great Healthworks company. The company was founded by CEO Ken Meares and COO Miles Dupree in 2002. Both Ken and Miles were so concerned with their consumers' wellbeing that they introduced Omega XL in 2003.
The product claims to benefit those who suffer from joint pain and inflammation as well as muscle soreness, whether due to aging or exercise. Omega XL ingredients contain, omega 3 fatty acids and some vitamin e. The product is manufactured using natural ingredients or ingredients derived from nature. The product is eco-sustainable, gluten-free, and non-GMO.
Features Of Omega Xl
It contains Omega 3 fatty acids
It comes in gel capsules that are safe and easy to swallow
They also have a subscription-based model.
It uses two of its primary omega-3 fatty acids, EPA and DHA, as its operative ingredients.
Omega Xl Ingredients
It Contains Omega 3 fatty acids which are known for the relieve painful joints, and some studies suggest that they also act as a natural anti-inflammatory.
Vitamin E which has numerous potential benefits, such as improving skin and nail health.
Monounsaturated Olive Oil which is the healthiest fat on earth and it also benefits insulin levels and help in blood sugar control.
PCSO-524™ which is 89% more effective for reducing joint pain than regular fish-based supplements.
My Experience Using Omega Xl
As a lover of the Gym, after some rounds of intense workout session, I sometimes feel slight joint pains. This made me buy the Omega Xl since it claims to help relieve pains, I placed an order for it on the OmegaXl.com website, and it arrived after 8 days and I started using it. However, Weeks into using it and  I did not feel any significant relief after workouts. I used for some time,up to 8 weeks. Still no significant change so I stopped taking it.
Inasmuch as the Omega Xl looks legit, the main concern of this review is to ascertain if the it lives up to its name, and this review would expose all that is needed to know about this product.
Does Omega Xl Live Up To Its Name?
From my own point of view as someone that has used the product, it did not do much for me. However there are many glowing reviews online from customers like me who bought the supplement and were satisfied. there are also some negative reviews from other people too complaining that it did not work for them. There are also complaints from Customers on the monthly subscription and subsequent charge on their accounts, many customers claimed here that they cancelled their subscription but were still getting debited, now this is all shades of wrong.
My sister got scammed on this. She has had joint pain for some time and was really willing to pay anything to get any relief. She didn't want to get hooked on any prescription drugs.

She took it for 4 full months. And didn't get any relief at all. This stuff is a scam! It's not FDA approved for what they claim it to be. And I think the guy who claims he has spent his last 15 years developing this (diet) supplement is a relative of the other guy that sells My Pillow!!

Now they have John Walsh advertising for them. Another piece of crap that became a overnight millionaire exploiting the death of his kidnapped son and started America's Most Wanted. Mr. Walsh must be broke now or he wouldn't be doing cheesy Omega Xl commercials.

Terry
Contacted Great HealthWorks on October 29th. 2021 for cancellation of monthly subscription of Omega XL product and they had said it was canceled. Then on November 15th. received product again and was charged to my credit card while I had believed that the subscription was canceled but obviously was not. Placed credit card charge into dispute for the November charge and had wrote on the package "Return To Sender" and returned it to the Post Office. Would like very much for Great HealthWorks to cancel monthly subscription and to immediately stop sending me product and to stop charging my credit card.

customer
Pros
It is toxin free and fights free radicals
It is a natural supplement promotes joint health
It comes in soft gel capsules making it easy to swallow
It improves cardio vascular health
cons
Some people have complained that it does not work for them.
It is expensive
They fail to grant customers request for subscription cancellation but continue charging them.
Side Effects Of Omega Xl
Some users have complained of  "fishy burps" which isn't something that's too uncommon with fish oil extract in general there shouldn't be anything serious. 
Nausea
Gastric disturbances
Is Omega Xl FDA Approved?
No, Omega Xl is not approved by the FDA. The FDA also warned that the product is a misbranded food because its labeling bears unauthorized health claims such as "Reduce cardiovascular disease risk factors together with Lactobacillus Rhamnosus and Lactobacillus Acidophilus
Conclusion
From every indications, It is not really clear if Omega Xl works as there are both positive and negative reviews online from customers. Click here to read reviews on other products we have talked about.
Do this If you have been Scammed!
Have you been Scammed? Here are some things to do if you've been scammed.
Contact your bank and and file complaints also request for a new debit card. If you used Paypal as a method of payment you should document the transactions for future purposes, you can do this by keeping a screenshot.
In as much as online shopping has made life easier and simpler, one ought to be careful when ordering things online to avoid the risk of a hacked credit card and overcharged fees. Before ordering things from an online store check out the following.
The website age, A return address, Customer Reviews and its social media presence.