Do you want to buy Knee Bliss Massager? Do you want to find out if Knee Bliss Massager is worth your money? Read this review to find out if you should buy the Knee Bliss Massager.
What is Knee Bliss Massager?
Knee Bliss Massager is a massager for the knees. The technology in the Knee Bliss Massager uses a combination of vibration and heat therapy to relieve pain, increase blood flow, and improve mobility.
When the massager is turned on it starts a vibration at a high frequency thus creating a deep tissue massage that relieves pain and tension.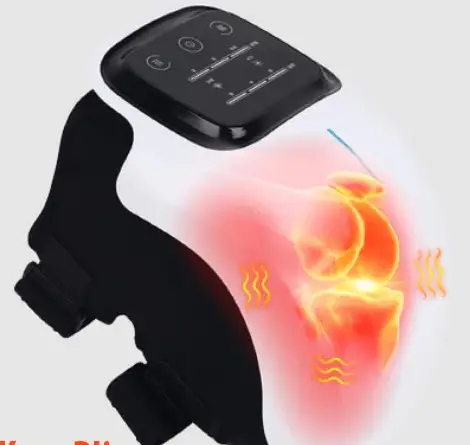 How The Knee Bliss Massager Works
It works by using a combination of vibration and heat therapy to relieve pain, increase blood flow, and improve mobility. The device has multiple vibration and heat settings, allowing users to customize their massage experience to their specific needs.
Features And Specifications Of The Knee Bliss Massager
It has three stages of heating: three temperature settings: low (105°F), medium (122°F), and high (140°F).
It has three vibration modes, which are the high vibration mode, automated therapy and low vibration mode.
The Knee Bliss Massager Package Includes:
Adjustable straps that allow for a secure and comfortable fit.
Rechargeable battery that lasts for several hours of use.
How To Use The Knee Bliss Massager
Rest your leg on a flat surface
Turn on the device and then choose your desired heat and vibration settings.
As it is turned on, place the massager on your knee joint, then place the vibrating center over any painful area.
Next, fasten the massager with the straps.
After use, turn off the device and keep in a cool dry place.
Testing
I decided to order this Knee Bliss Massager to see what the whole fuss was all about, and believe me, I wish I had listened to my instinct telling me not to waste my money, cos that was what I did, I wasted my money.  It did not work as advertised and the battery went down so fast.
Does Knee Bliss Massager Really work?
Sadly, it did not work for me, some customers have also gone on to leave reviews saying that it did not do anything for them.
A customer had this to say:
Does not do the job at all. And return the product back is almost impossible. Still trying to get my money back.

Aamar
Some Claimed Benefits Of The Knee Bliss Massager
It claims that it Helps improve muscle mobility.
It claims that it Provides Relief for Pain and Fatigue
There are also claims that it Stimulates Muscles Tone and Definition
cons
It does not work as advertised.
Conclusion
From the foregoing it is clear that the Knee Bliss Massager does not work as advertised. Click Here To read about other products we have reviewed.
Do this If you have been Scammed!
Have you been Scammed? Here are some things to do if you've been scammed.
Contact your bank and and file complaints also request for a new debit card. If you used Paypal as a method of payment you should document the transactions for future purposes, you can do this by keeping a screenshot.
In as much as online shopping has made life easier and simpler, one ought to be careful when ordering things online to avoid the risk of a hacked credit card and overcharged fees. Before ordering things from an online store check out the following.
The website age, A return address, Customer Reviews and its social media presence.