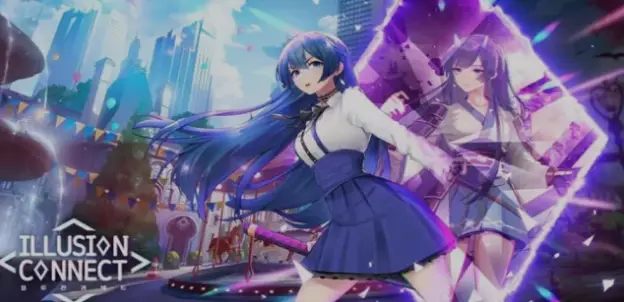 Looking to get more exclusive rewards for your adventure? We welcome you to our newest Illusion Connect Codes handy list where you get all the help boosters you need. It's never bad to get a boost to reaching different milestones.
The objectives of this Roblox game are as easy as pie: building radiants, socializing with them as well as crossing the top charts in Card games.
Below, we have a handy of Illusion Connect Codes list that gives you some extra points. Please use these.
All Active Illusion Connect Codes
The special news for you is that we have revealed some working codes to redeem variety of items like from partners to EXP, Gold, Diamond and much more. Take a look yourself —-
#ICAHORA – Use this redeem code to get 2x Summon Tickets, 100k Gold, 30x Nightmare Bottle (NEW)
#IC1ST – Use this redeem code to get 5 summon tickets, 20 Gold partner Stones, and 1 Super Baguette.
#fanart – Use this redeem code to get 5 Summon Tickets.
#IC92C8D2 – Use this redeem code to get 200 Diamonds, a Trinity SR Partners, and 100K Gold.
Some Expired Codes
Just to save your time and any frustration in your search for new freebies, we have also added expired codes for you and other players to look at. See below —
#illusion – Use this redeem code to get 50 Diamonds, 20K Gold, and 10 Nightmare Bottle.
#letmeout – Expired code for 1x Super Sports Car, and 200 Diamonds.
#youareme – Expired code for 1x PHY Transcension, and 2x Super Baguette.
#missme – Expired code for 1x Demon Crystal, Nightmare Bottle XL.
#icllamda – Expired code for 30K Gold, 10 Silver Partner Stone, and 20 Nightmare Bottle M.
#iconnect – Expired code for Gold, SSR Broken Destiny Prism, and EXP Bottles.
Illusion Connect Codes FAQs
What are Illusion Connect Codes?
Illusion Connect Codes are courtesy of developer, Superprism Technology Co., Ltd by using codes that instantly grant you exclusive rewards — from partners to EXP, Gold, and much more.
How Do I Redeem My Illusion Connect Codes?
These codes can help you redeem your Illusion Connect fast and simple. Check the step by step guide below —
Open your 'Character Info' page by tapping on your avatar icon in the upper left corner of the screen. 
2. Open the 'Settings' menu. 
3. Select the 'Redeem' option (the gift icon).
3. Type in the Illusion Connect code, but keep in mind to add the "#". 
4. Tap on 'Confirm' 
How do I get more Illusion Connect Codes?
We are constantly sending our loyal subjects out to find new Illusion Connect Codes. But if you want to try to find some yourself, we suggest you start by adding joining the official Discord server to receive them. Nevertheless, we will update our PNW codes anytime one is released.
Why aren't my codes working?
Mind you, some Roblox codes exceptionally expire speedily and may even become inactive after 24 hours or less. If you attempt to enter a code and it says Code Expired, that code is no longer active and, regrettably, cannot be redeemed. There is nothing you can do to fix this issue, the code is simply unobtainable.
If you attempt to type in a code and it says Invalid Code, this means that you've likely mistyped the code or neglected to use the correct capitalization. If this happens, try to retype and re-enter the code once more, being sure to copy it exactly as it's written!
That is all you need to know about Illusion Connect Codes. We'll keep a keen eye out for new promo codes and add them to this list when the developer makes them available. Thank you for reading to the end.
If you're looking for codes for other games, we have Oil warfare tycoon codes, Build A Market Codes, Rocket league codes posts.
Last Updated on March 16, 2023 by Danny