Do you want to buy a mountain bike from G8bke? Read this review to find out why our scam detector gave g8bke.co.uk a poor trust score.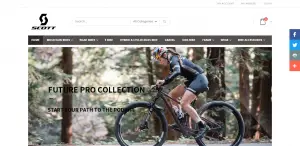 What is g8bke.co.uk website?
G8bke located g8bke.co.uk is an online store that is impersonating the Scott brand by using its brand name and logo on its site. g8bke.co.uk deals in various various types of Scott bike products like the mountain bikes, road bikes, e bike, hybrid and cyclocross bike, kids bike, bike accessories etc. And these products are being sold at suspicious discount prices.
However there are so many red flags in this website that signifies that g8bke.co.uk is a scam website, and this review would expose all that is needed to know about G8bke. Some discoveries made are:
It has a fake contact address on its website.
It is impersonating the Scott Bike brand, thereby ripping off unsuspecting buyers.
It has hidden it registration details on the Whois database, thus it lacks credibility.
No social media presence/ Fake social media icons.
There are Fake Trusted Seals on the website which are not from the authorized organizations.  
All these are Huge red flags and reasons not to shop from g8bke.co.uk, But if you still want to shop from this store, continue reading!
More Reasons why you should not shop from g8bke.co.uk
Suspicious/ Outrageous Discounts
The outrageous discount prices on the website are too good to be true and serves as a red flag also showing that the store is scam.
Fake Contact Address
G8bke.co.uk has listed its contact address as 22 Brushfield St, London E1 2AA,United Kingdom. However Google search could not pinpoint the exact location of this address. This is suspicious and shows that G8bke is hiding its information from its buyers. It is also suspicious as genuine stores always provide accurate information on its site. This is a red flag and an indicator that g8bke.co.uk is a scam store.
Customer Complaints
Customers who shopped from this store have left reviews online stating that they received an entirely different item from what they ordered. And all efforts to contact the store for a refund proved abortive.
They took the money, the goods were never delivered, no answer to my mails.
They are scammers!!!!

Donhuebi
Customer Review
There is no customer review on the site. This is suspicious as genuine stores always leave an option for honest reviews on their site as Reviews helps them get noticed and lead to more sales.
Stolen Contents
g8bke.co.uk has stolen most of its contents, product images from various online stores.
This is quite common with scam online stores. They pass off products as original, but in reality customers receive cheap knockoff and have no means of returning it.
Is g8bke.co.uk Scam Or Legit?
From these critical points noted above, G8bke has a lot of red flags.
Just like various scam online stores, it uses cheap discount prices to lure customers. However when they place order they receive an entirely different item or a low grade of what was ordered while some unfortunate customers get nothing at all. This is a classic example of a bait and switch scam.
Conclusion
From every indications, it is clear that g8bke.co.uk is not a genuine online store. It has a poor trust score and as such is not recommended by us.
Just like viviizstores ,dicoola, alien-tees, galacmart, southood, crocodiletime and other suspicious websites, customers did not receive the items they ordered but a cheap item or nothing at all.
Do this If you have been Scammed!
Have you been Scammed? Here are some things to do if youve been scammed.
Contact your bank and and file complaints also request for a new debit card. If you used Paypal as a method of payment you should document the transactions for future purposes, you can do this by keeping a screenshot.
In as much as online shopping has made life easier and simpler, one ought to be careful when ordering things online to avoid the risk of a hacked credit card and overcharged fees. Before ordering things from an online store check out the following.
The website age, A return address, Customer Reviews and its social media presence.